Header Image
One Badge. One City. One Team.
Step up to the challenge
The Bellevue Police Department is a growing law enforcement agency with many exciting job opportunities. A career with the Bellevue Police is challenging, yet very rewarding. As a Bellevue police officer, you will deal with a variety of people and cultures as you work to keep Bellevue one of the safest cities in the Pacific Northwest. Learn more about us and Bellevue in the recruiting video below, then apply and accept the challenge to protect this city.
Entry:
New higher starting pay for entry-level officers $6,521/month or $78,263 per year, PLUS incentives and numerous overtime opportunities. Most of our Officers make over $100,000 per year, including incentive pay and overtime.
$1,000 bonus pay after successfully completed Field Training

$1,000 bonus pay after three years of employment
Exceptional Entry:
Officers with academy certification but less than two years experience, click here.
Lateral:
Successful lateral candidates may be eligible for a $16,000 signing bonus.
Lateral officers starting pay as high as $8,352/month or $100,231/year, PLUS incentives and numerous overtime opportunities.
Working for the Bellevue Police
One of the largest and fastest-growing cities in Washington, Bellevue is one of the best places to work as a police officer. The department has a tradition of success, as Bellevue enjoys an exceptionally low crime rate and is one of the safest cities in the Northwest. For a department its size, Bellevue's force offers the opportunity to serve in many specialized positions. Watch our recruiting video -
"One Badge. One City. One Team
.
"
The Bellevue Police Department serves a population of 145,000 in a roughly 33-square mile area. The city is bordered by Kirkland and Redmond to the north, Renton and Newcastle to the south, Issaquah to the east and Clyde Hill, Medina and Mercer Island to the west.
Currently, the department has over 186 commissioned personnel, along with 47 non-commission personnel. Commissioned ranks are, in ascending order: officer, corporal, sergeant, captain, major, assistant chief and chief. The police chief is appointed by the city manager.
After two to three years of service, officers may be eligible to apply for specialties, depending on the position. Service time at other departments may be considered after the probationary period is passed.
Full-time specialty sections for commissioned personnel within the department include:
Accident investigations
Motorcycle traffic enforcement
School resource officer
Community station officer
Detective - violent crimes, property crimes, fraud
Collateral Duties/Specialties (part-time)
Field training officer
Crowd control
Hostage negotiator
Honor guard
Bomb technician
SWAT
Defensive tactics instructor
Firearms instructor
Evidence technician
Emergency vehicle drivers instructor
The City of Bellevue is an equal opportunity employer, and values diversity in its workforce.
Volunteer Opportunities
Please be advised: Because of the COVID-19 pandemic, our volunteer program is temporarily suspended. Please check back after Jan. 1, 2021 for volunteer opportunities.
Motivated individuals can assist with a variety of assignments for the Police Department through its award-winning volunteer program, including staffing substations at Crossroads and Factoria, parking enforcement and other supporting functions. Not all positions are open at all times.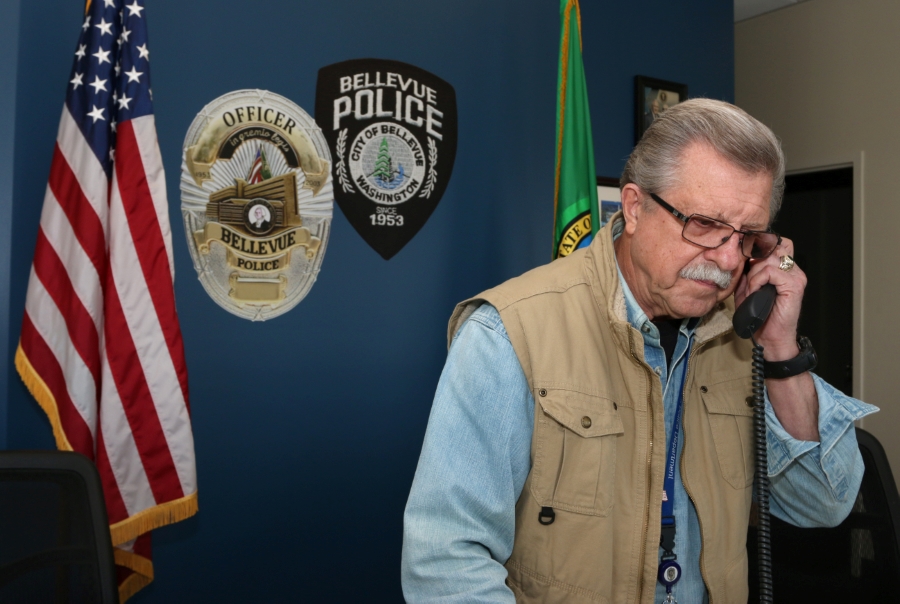 Our volunteer program is designed for long-term commitment and requires candidates to undergo a rigorous application and screening process. Candidates are considered for specific assignments based on their qualifications, interests and availability. Minimum qualifications are posted on the online application.
To Apply:
If you would like to apply to become a police volunteer, please click here to fill out the online application (to the right). Applicants will be contacted if a suitable assignment is available. The application process includes a series of interviews, a complete background investigation and polygraph exam. If you have questions, please contact the police volunteer coordinator, Marji Trachtman at 425-452-6017
NOTE: The Police Department cannot accommodate group volunteer projects, court-mandated community service or high school community service projects.